My father, Roy Pape Findlay served in the RAF from 6th April 1942 to 8th August 1946. His service number was 1493856 and he was born 28th September 1923 in Newburn, near Newcastle upon Tyne.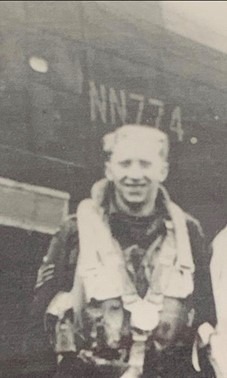 He joined 630 squadron at East Kirkby, Lincolnshire on 22nd October 1944 as a navigator and completed 31 missions, one of which we believe he volunteered for due to another navigator being unable to fly.
His first mission was on 28th October 1944 to Bergen and his final mission was on 25th April 1945 to Berchtesgaden.
His log book shows he flew in 13 different planes during this time but most missions were completed in NN774  LE-L. All missions were completed with F/O Hoare, who we believe to be Australian, with the exception of one mission to Nordhausen on 4th April 1945 with F/O Barnes, so this is the mission we think he volunteered for.
He never mentioned the war or the missions he took part in but he never liked to fly as he said he had done enough of that!
He sadly passed away on 17th August 1994 at the age of 70 and we only found out about his RAF life by finding his log book and pictures of him and his crew at the Lincolnshire Aviation Museum, which is at his old base at East Kirkby.
We placed the stone at the IBCC Ribbon of Remembrance in 2019 to commemorate his service and the inscription is one of his favourite sayings and has special meaning to our family.
Words and photographs courtesy of Roy's son, Andrew Findlay.