Children's Work Gallery
2021 marked the 85th anniversary of the formation of Bomber Command. To celebrate, we invited local children to make an artwork or a piece of creative writing inspired by their local World War 2 Bomber Command base. This page showcases their work.
RAF EAST KIRKBY
In 1943 East Kirkby went from being a sleepy rural village to a busy RAF base home to 57 and 630 Squadrons. By the end of World War II they had taken part in over 200 operations losing 121 aircraft. the following work has been completed by 1st Ruskington Beavers.
"RAF East Kirkby, My Story" by Verity, Age 6
East Kirby is a village with an airbase in Lincolnshire that was active during World War 2.
There were 30 Lancaster aeroplanes and more than 2000 people living on the base.
On the 17th April 1945, a fire caused an explosion on the base destroying 6 Lancaster aeroplanes and taking a week to clean the damage.
This must have been scary for people living in the village.  If I was in the village I would not have known what caused the explosion and thought it could have been from a bomb.  If there was a fire there would have been lots of black smoke.  That would have worried me because I don't know what is going to happen.  I hope the base has a fire engine to stop the fire.  I am glad the airbase is near to keep me and the UK safe in the war.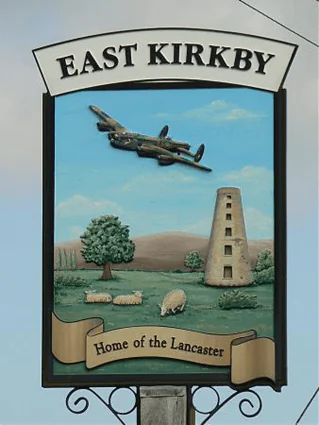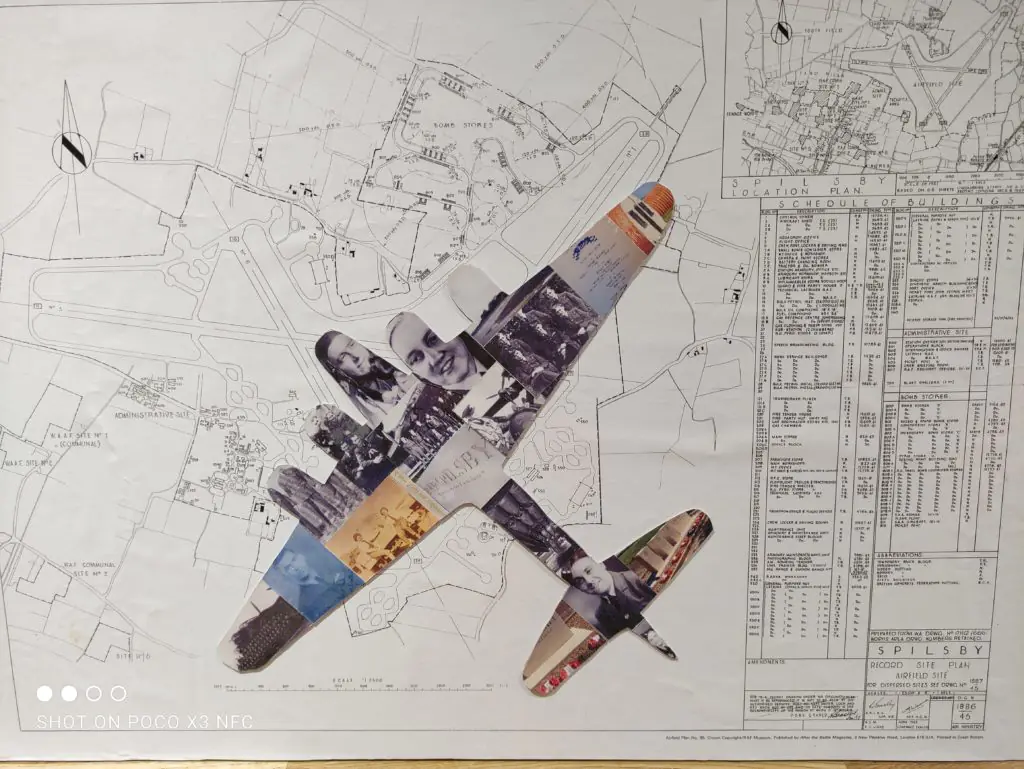 RAF SPILSBY
Opened in 1943, RAF Spilsby was home to 207, 44 and 45 Squadrons. The facilities were spread over the base and bicycles were used to get around. In 1944, an anti-aircraft gun school came to Spilsby because it was so close to the North Sea. This artwork has been submitted by Ross.
RAF Metheringham
Opened in 1943, this base experienced harsh winters. To help pilots land in bad weather this base used FIDO, a system of fuel tanks, pipes and burners that could disperse the thickest of fogs. Norman Jackson was a flight engineer from RAF Metheringham. Normans was awarded the Victoria Cross when he risked his life on an operation to save his crew. Navenby Church of England Primary School and Metheringham Scouts have submitted these works.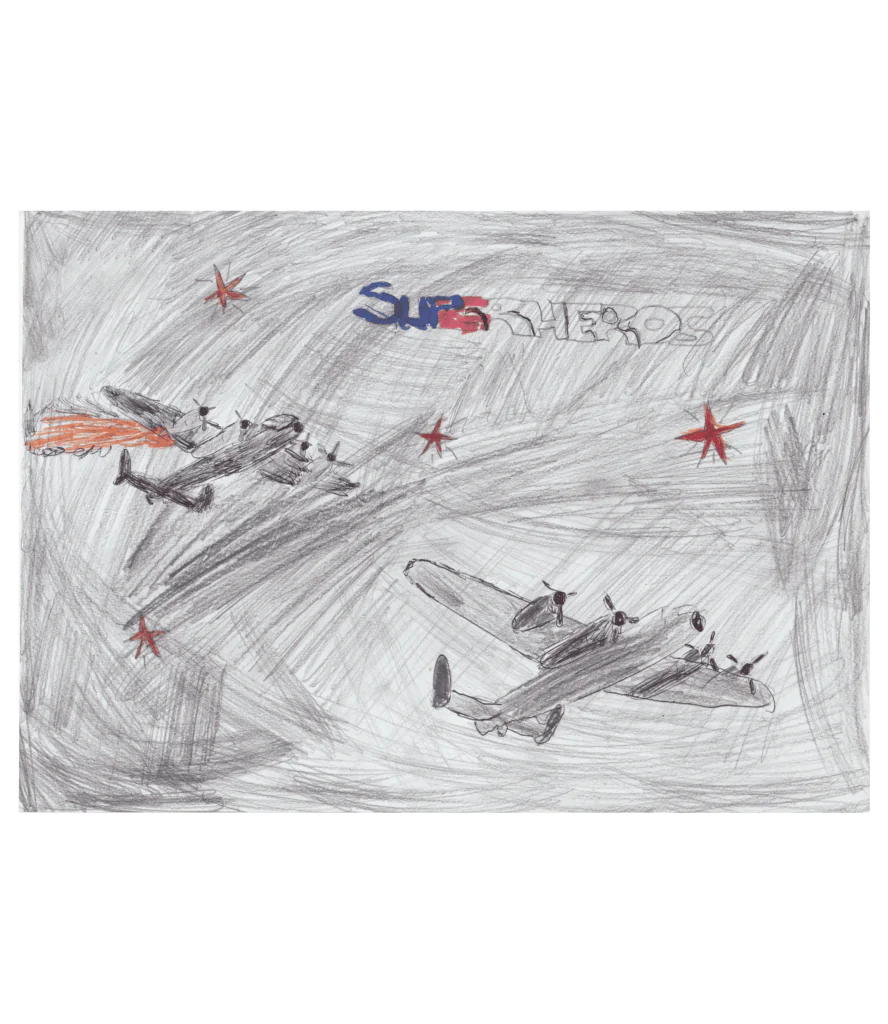 Metheringham Scouts
Dear Diary,
Tonight, I go to sleep late as the sound of the roaring engines of man-made birds keep me from my slumber. I stand, head up, looking out to the stars like spots of a leopard and wait for the war machines to fly away to another place. I hear the propellers and see shadows go by in the light of the fires they use to burn the mist from the runway. They are in the shape of an arrow, like the arrows that used to be shot into targets many years ago. After finishing my warm milk and seeing the planes disappear as quickly as they came, I go to sleep waiting to see the heroes of the sky hopefully return soon. Some days there would be all of them, others some, sometimes none would return to this peaceful village my mum always tells me not to worry and that they die for a good cause but I would always shed a tear. I woke today and 10 of the 12 returned. There was news of the bombing, that it had been a success, but deep down inside I could never call it a success; a success to me is all returning safely to our community. Who knows? Some day that could be me in that plane.
Sincerely Jay,
Drawing by Paddy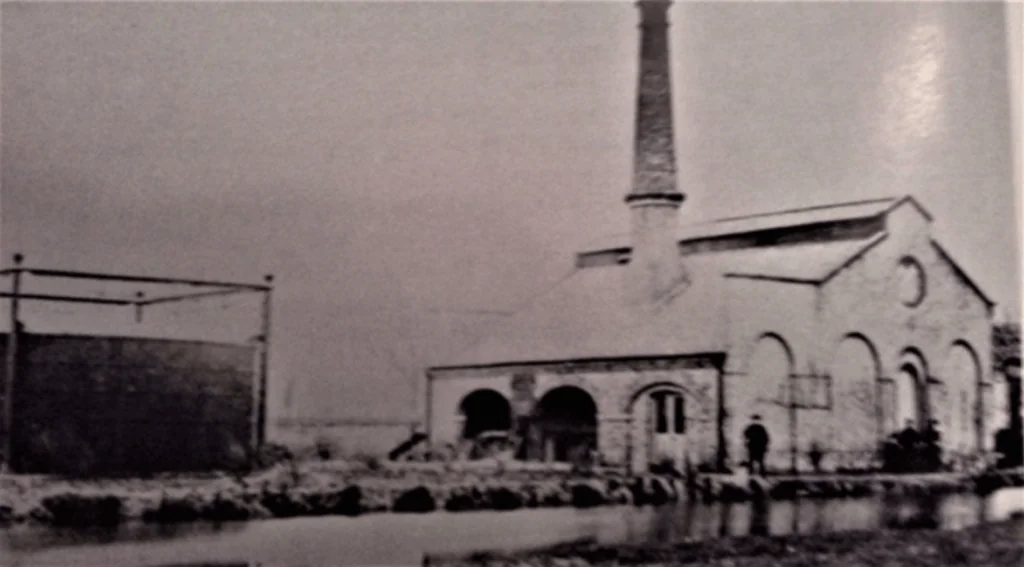 RAF Coningsby
This airfield is still open today and is home to the Battle of Britain Memorial Flight. RAF Coningsby opened in 1940, many aircraft based here participated in the Thousand Bomber Raid on Cologne and was home to many Squadrons during WW2, most notably, 617 'Dambusters' Squadron. These works are from a Lincolnshire based Home Education group.
All of this work has been completed by Beka
Lancaster Tragedy at Coningsby
On the 30th March 1943 Avro Lancaster WF 4715, OF-U, 97 (STRAITS SETTLEMENTS) squadron tragically crashed into the gas works at Coningsby while returning from operations to Berlin. The gasworks closed in 1940 so there could have been some gas left in the tanks.   The chimney would probably still have been there but, to stop it being used as a target by the enemy, it would have had no lights.  Berlin was one of the farthest place they could fly too. They left in the evening and probably didn't get back till early morning when it was still dark. They would have been tired, maybe the plane was damaged or maybe they didn't see the chimney. Sadly everybody in that plane died
Fg Off GDW Francis , Fg Off P H Norton , Sgt W Standring , Sgt R Frank , Flt Sgt F R Birdtwistle, Sgt W H Whiting ,Fg Off R W Wright ,Flt Sgt A J Molyneux , Fg Off J L Bendix,  Flt Sgt Eastwood.
There is a plaque on Butt's bridge to commemorate these brave people and there is still one Lancaster left at Coningsby which is still part of the Battle of Britain Memorial Flight.  It also flys out to special occasions for example Captain Tom's Funeral.
We got this information from the plaque, War memorials online, Heritage Gateway and from the book,   ' (County gas works series) Lincolnshire' by AT Marks.   The photographs of the gasworks and the site of the gasworks is from Ken Redmore of the South Lincolnshire History Association.
RAF Blyton
This airfield was opened in 1942 and was first used when 'B' Flight of 18 (Polish) Operational Training Unit flew in it's Wellingtons. 199 Squadron reformed at RAF Blyton later that year, but they were transferred to RAF Ingham a couple of months later. During their time at Blyton, they flew on 119 sorties with no airmen lost.