Sgt Grey Doyle Cumberbatch 1383404
One of the war graves in Long Bennington village Churchyard is that of the above airman. He lost his life when Lancaster 111 ED549 HW-S from 100 Sqn which took off at 18.32 from Grimsby on the 5th March 1943 on a Gardening operation (mine laying) and crashed at 3.08 while trying to land at Langar airfield, Notts. They had been diverted from base due to fog.
Sgt Grey Doyle Cumberbatch was one of 12 young men known as 'The Second Barbados Contingent' who were recruited specifically for the Royal Air Force. The twelve young men included Errol W Barrow, who survived the war and went on to become Barbados' first Prime Minister (1966-1976)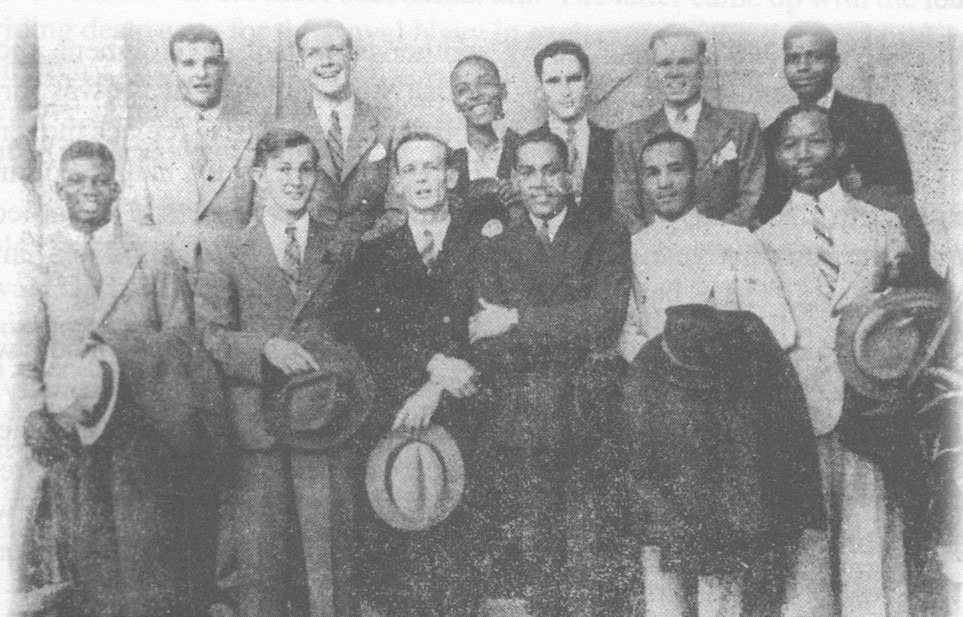 Barbados Postal Service issued a set of stamps commemorating their men who served in the Royal Air Force in WW2 and the above photo was one that was used. Sgt Cumberbatch is on the front row far left, and Errol Barrow is on the front row 3rd from the right
G.D Cumberbatch was the eldest child and only son of Charles Wilkinson Cumberbatch and Ocatavia Ceciliy Cumberbatch née Jordan. He was born 2nd June 1921 and baptised 3rd July 1921 as Greystone Doyle Cumberbatch at St. Lucy Parish Church. He was only 21 when he was killed.
Relative, Bob Cumberbatch, states that on his voyage from Barbados to England he travelled on the SS Maaskerk in first class. The Barbados Second Contingent consisted of 12 well educated young men, six died and six lived.
On the 22nd September 2012 a Memorial service was held in Plungar and a Memorial unveiled to the crew. Afterwards Grey's sister, Nan Flora, came to Long Bennington to place flowers on her brother's grave, and she shared more details about Grey, the fact he was a talented cricketer and pianist, and that the ship they travelled on had a piano but no one to play it, so Grey entertained everyone, every evening for the duration of the journey…..