In memory of Sergeant John Elwyn JOHN RAFVR, 1153102 and the crew of ED989
No. 5 Group, RAF Bomber Command, No. 57 Squadron
This is dedicated to my Great Uncle John Elwyn JOHN, to his crew on Lancaster ED989, and to all RAF air and ground personnel who without hesitation put their lives on the line day and night during World War II.  Also, with gratitude to the people of Lincolnshire, who made space in their hearts and lives to support all those that served in Bomber Command.
Until the pandemic hit in 2020, John Elwyn had just been a photograph in the hallway at my father's house.  A smiling 21-year-old air gunner who lost his life on Lancaster ED989, August 1943.  The following has been compiled from interpreting John's MOD records, National Archive documentation, extremely helpful members of various Bomber Command/Lancaster social media groups, and many a late night researching the internet.
John Elwyn JOHN was born on 22 January 1922 at 1 Howells Terrace, Heol Las, Glamorgan, Wales.  His father was David Llewelyn JOHN, a Tin Plate worker and his mother was Margaret (nee BODYCOMBE).  He was their fifth child; his older sister Ruby Elvira JOHN is my paternal grandmother.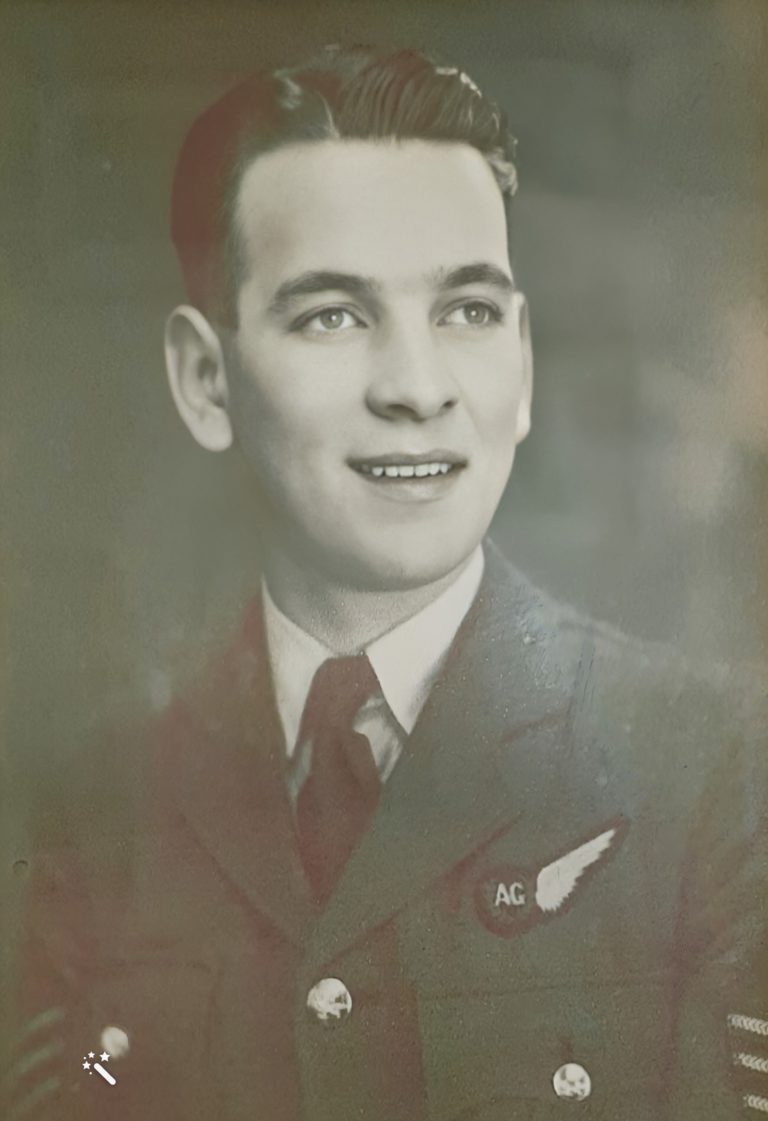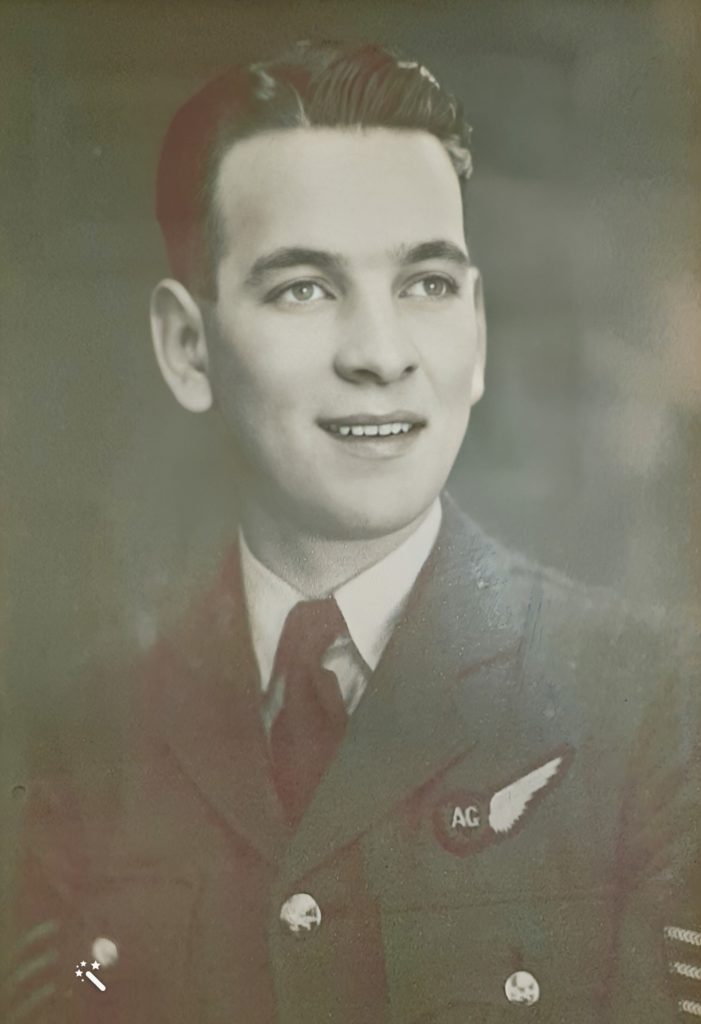 At the time he was born, Heol Las was a small close-knit and hardworking Welsh village.  The main source of income for men came from working in either a coal mine, a tin plate works or in agriculture, though economically times were becoming very challenging.  John Elwyn lived within a stone's throw of his grandparents, aunts, uncles, and cousins.  He went to the local Council school in the next village of Birchgrove.  The family were heavily involved in local chapel worship.  I have found newspaper articles about the JOHN family from the 1910s and their activities at Capel Saron, Birchgrove, with his aunts and uncles winning awards for recitals and singing in the choir.
In a transcript from John Elwyn's maternal aunt, Deborah BODYCOMBE recorded in 1976, she mentions her sister Margaret (John Elwyn's mother) used to travel to Llansamlet, the next village bringing her seven children to visit their grandmother Mary.  Deborah said that when the grandchildren came to visit, their grandmother used to buy a cow's tongue, which she stuffed and slow cooked on the open fire.  She then thinly sliced the tongue before serving.  By all accounts it was delicious, and everyone looked forward to this family meal!
In his early years, John Elwyn experienced close personal loss.  In 1934, his younger sister Rita Eileen passed away with pneumonia aged 3½.  His mother Margaret passed away with cancer in January 1939, aged 45.  This was two weeks before John Elwyn's 17th birthday.  On the 1939 register taken on 29 September his occupation is listed as "Colliery Worker Sumpmans Mate (Above ground)."  With local employment opportunities diminishing within the tin plate works, his father had moved to Ebbw Vale to work in the steel industry.  John Elwyn and his younger siblings remained in Heol Las as World War II broke.
John Elwyn became a RAF Volunteer Reserve as an Aircraftman 2nd class (AC2) aged 18 years.  He was based at RAF Cardington, Bedfordshire from May to August 1940.  He then moved to No. 951 Squadron in Bristol, which later merged with No. 927 Squadron.  On 4 February 1941 he became an Aircraftman 1st class (AC1), then promoted to Leading Aircraftman (LAC) on 8 August 1942.  The following month he was attached to No. 11 Balloon Centre at Pucklechurch, 7 miles from Bristol City Centre.
In October 1942, he travelled to London to the Air Crew Recruiting Centre (ACRC).  Here, recruits completed a basic induction, undertook a series of rigorous medical checks, and completed tests to identify roles for which they would be suitable.  For John Elwyn this was as an air gunner.
He was posted to No. 14 Initial Training Wing (ITW) at Bridlington, East Riding of Yorkshire.  Here the recruits took physical training on the sea front and went to training classes in the Spa Royal Hall.  They were billeted in requisitioned local people's homes, boarding houses, and hotels.  Two months later he moved further north to No. 4 Air Gunnery School (AGS) based at RAF Morpeth, Northumberland.
From the book RAF Morpeth: A Forgotten Airfield in Northumberland by Graeme Rendall (2021), I have discovered that John Elwyn was possibly part of No. 21 course that arrived on 22 December 1942.  It says that "December 1942 had seen plenty of bad weather, including plenty of thick haze, with no less than 11 days being regarded as completely unfit for flying."
On 27 February 1943 John Elwyn received his temporary sergeant stripes and on 2 March 1943, he commenced his Air Gunner Occupational Training at No. 12 O.T.U., RAF Chipping Warden, Northamptonshire.  This was the point when the recruits formed an air crew of five which included a pilot, navigator, bomb aimer, wireless operator, and a gunner.  The usual method for "crewing up" was putting all the trainees from the various occupational training schools into an aircraft hangar and leaving them to sort themselves out! The flight engineer and an additional gunner usually joined later at the heavy conversion training, making up a crew of seven able to operate on a Lancaster.
I have identified from archive photographs that S/L Benjamin Southam AMBROSE (Pilot) and Sgt Donald Edwin NYE (Wireless Operator) were at RAF Chipping Warden at the same time as John Elwyn.  On 22 April 1943 John Elwyn moved to RAF Swinderby, Lincolnshire, part of No. 1660 C.U. for heavy conversion training.  It was here that his crew were joined by an additional gunner, F/S James Lawrence LAMB RCAF.  For a brief period, John Elwyn was attached to No. 1485 (Bomber) Gunnery Flight based at RAF Dunholme Lodge, Lincolnshire.
On 9 June 1943 John Elwyn moved to No. 467 (RAAF) Squadron, RAF Waddington, Lincolnshire.  In the Operations Record Book of No. 467 (RAAF) Squadron from the National Archives (AIR-17-1930-11), John Elwyn is listed in the "Personnel – Posting in" from No. 1660 C.U. with all his other crew members and pilot S/L Benjamin Southam AMBROSE.
Sadly, S/L AMBROSE (https://losses.internationalbcc.co.uk/loss/100319/) was the 2nd pilot on Lancaster ED4983 who set off to Dusseldorf on 11 June 1943 at 22:25.  He and his crew were recorded as "Missing with no news received."  Later it was discovered that the plane had been hit by flak battery I./514 and crashed at Frenz, Germany.  He is remembered at the Rheinberg War Cemetery, Germany.
In the same Operations Record Book, there is an entry "The evening of 11 June 1943 the Squadron held a dance in the gymnasium for the benefit of the Squadron Sports Fund.  It was very well attended and was voted an extremely popular affair.  Many of the men we would have liked to see there, however, were off on the first operation this month, the attack on Dusseldorf."  I feel this would have been a much-needed respite for the base from the demands of the war effort, but sad knowing S/L AMBROSE was one of the casualties from that raid.
A week later, John Elwyn and the remaining crew were posted to RAF Wigsley, Nottinghamshire to join No. 1654 C.U. for further heavy conversion training.
On 28 July 1943, his final posting was to No. 57 Squadron at RAF Scampton, Lincolnshire.  The Operations Record Book of No. 57 Squadron from the National Archives (AIR-27-538-35) states that Wing Commander Walter Ralph HASKELL DFC took over from Wing Commander Frederick Campbell HOPCROFT DFC.  It goes on to say "W/Cr. HASKELL DFC & crew posted to Squadron."  I assume that John Elwyn and his crew had already been allocated to fly with W/C Walter Ralph HASKELL before they came to No. 57 Squadron.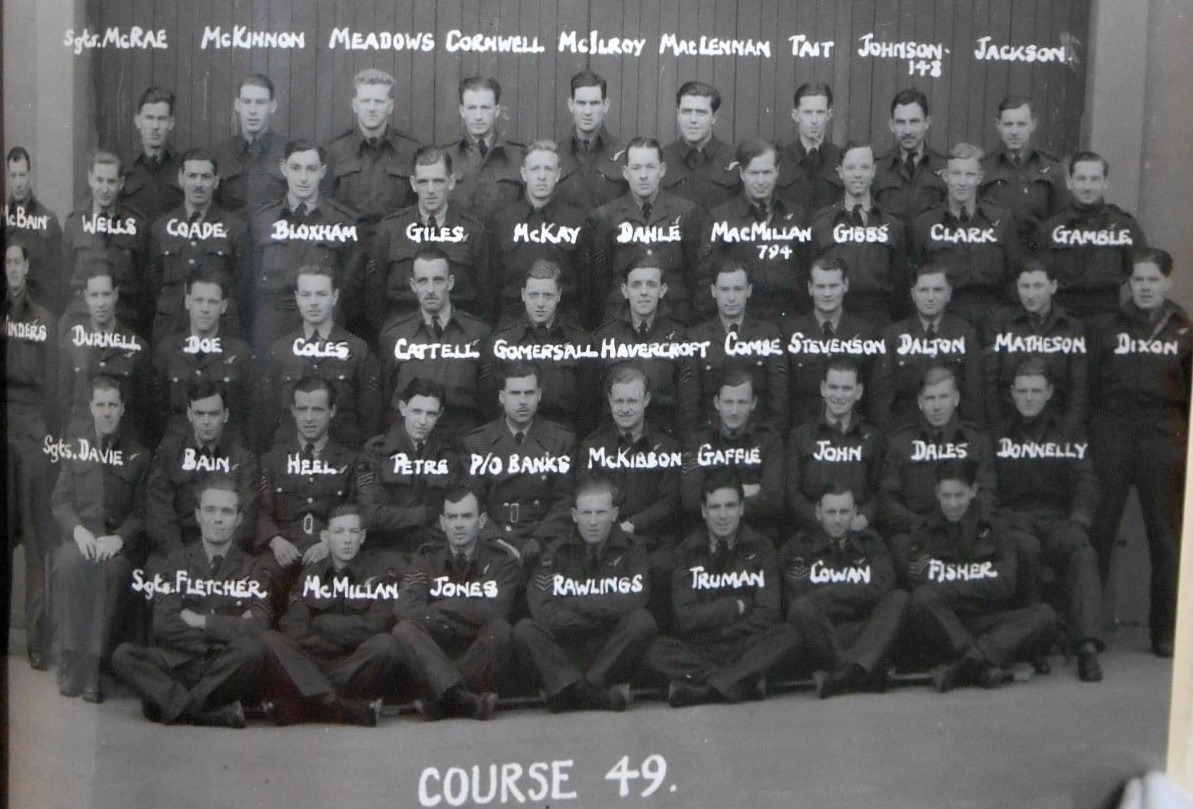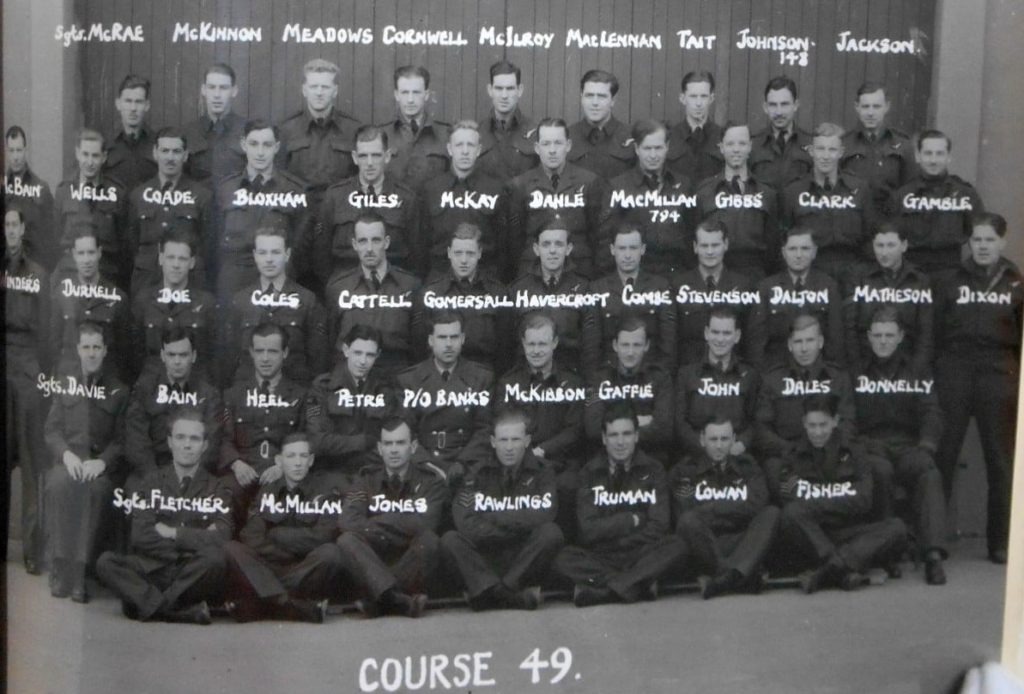 I have found six sorties for John Elwyn from his time at No. 57 Squadron, the final one he and the crew never returned.  Their first sortie together was on 29 July 1943 on Lancaster JA914, target Hamburg City Centre with John Elwyn in the position of rear gunner.  This sortie had a 2nd pilot on-board, S/L Malcolm CROCKER (https://losses.internationalbcc.co.uk/loss/105262/).  S/L Malcolm CROCKER later went on to become a Wing Commander and DFC.  Tragically he lost his life 21 June 1944 as part of No. 49 Squadron attack on the synthetic-oil plant at Wesseling.  He and his crew never returned, he is remembered at the Rheinberg War Cemetery, Germany.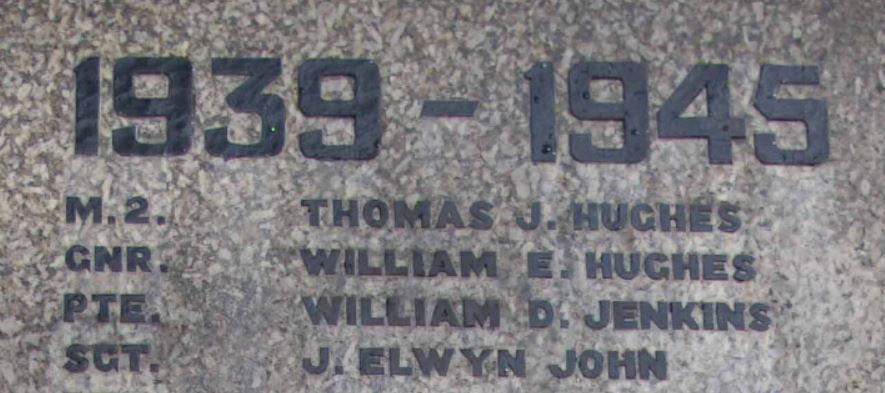 On his future sorties John Elwyn was in the position of mid-upper gunner, all the same crew.  These sorties included:
30 July 1943, Lancaster JA914, Remscheid
9 August 1943, Lancaster ED827, Mannheim (Sortie not completed as rear turret unserviceable)
10 August 1943, Lancaster JA914, Nuremburg
12 August 1943, Lancaster ED698, Milan
His final sortie was 17 August 1943, leaving RAF Scampton at 21:44 flying into a moonlit sky.  This was part of Operation Hydra; the target was the German V2 rocket factory at Peenemünde.  He flew on Lancaster ED989, DX-F, Frederick III.  The Operations Record Book of No. 57  Squadron from the National Archives (AIR-27-538-38) states "Missing, lost contact after take-off."  The plane was in the third wave of Lancaster bombers leaving the UK that night.  When returning from Germany, ED989 was understood to be the 32nd or 33rd plane to be shot down.
The crew of ED989 is listed below.  They had a 2nd pilot on board, F/S Cyril BUTTERWORTH who transferred into No. 57 Squadron on 14 August 1943:
John Elwyn is also remembered in the commemorative book at Scampton Church, panel 98:
https://scamptonchurch.org/wp-content/uploads/2022/02/RAF-Scampton-Window-Commemorative-Book-Compressed.pdf
As a family we are immensely proud of him, what he achieved during his RAFVR career and his dedication to serving his country, may he and his fellow service men and women never be forgotten.
Sent by his Great Niece Bev Davies.  With a special thanks to Richard JOHN from the extended family in South Wales for providing invaluable information about Heol Las and keeping John's memory alive by visiting the local war memorial in Primrose Park, Llansamlet on behalf of the family.