Russ Ewens DFC was born in 1920 in Plymouth, where he also grew up.  Much to the surprise of his naval family, he chose the RAF when he joined up in the early part of the Second World War.  Russ completed his pilot training in North America and in the summer of 1943 he formed his air crew, joining 49 Squadron based at Fiskerton, in Lincolnshire.  He and his crew completed a full operational tour with 49 Squadron, including eight trips to Berlin.  In the summer of 1944, he was awarded the D.F.C., London Gazette, 15th August 1944.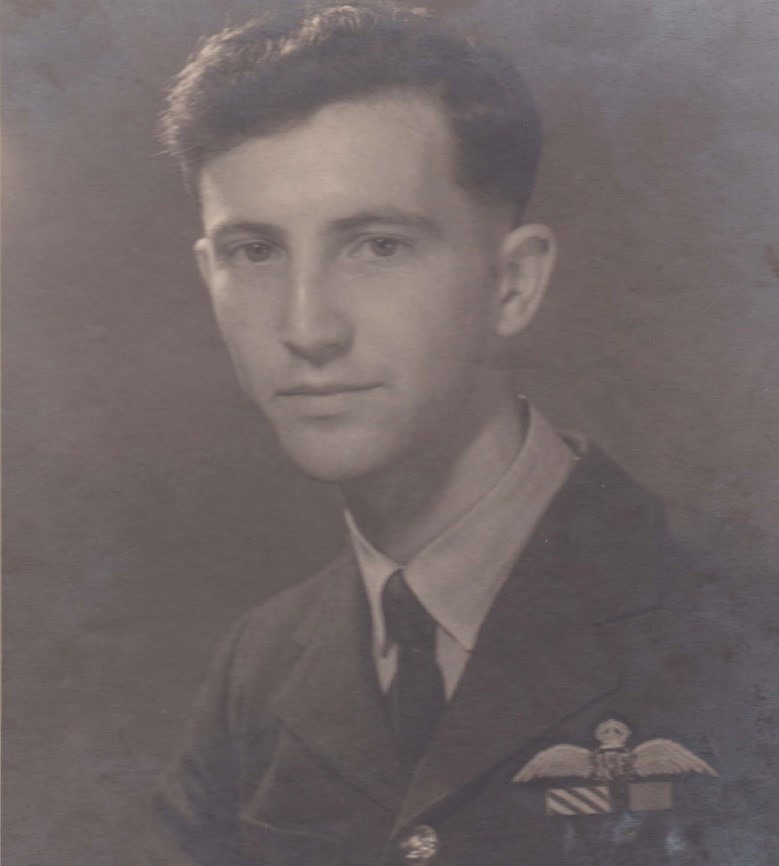 Whilst based in Nottinghamshire, he met his first wife – gaining some notoriety for buzzing the teacher training college in Sheffield where she was sitting her final teaching exams!
After the war, Russ continued flying with what became BOAC, eventually becoming the Training Captain of their VC10 fleet.  He was honoured to captain the aircraft which returned HM Queen from Australia to the UK for one of the 1974 general elections.
Russ was married twice and had six children.  He died in 2004.
As with so many of that generation, Russ rarely spoke about his wartime service.  However, an insight can be gained from the contribution of his Flight Engineer, Doug Tritton, in "Beware the Dog of War" by John Ward – a history of 49 Squadron (see page 285 – "Not Even Damp").
March 1944
The photograph, from left to right, shows…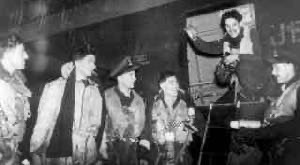 Flight Engineer Sgt Doug Tritton
Air Gunner Sgt Maurice Laws
Pilot Officer Russ Ewens
Navigator Sgt Joe Pitcher
Wireless Operator Sgt Phil Griffiths
Bomb Aimer F/O Bob Grainger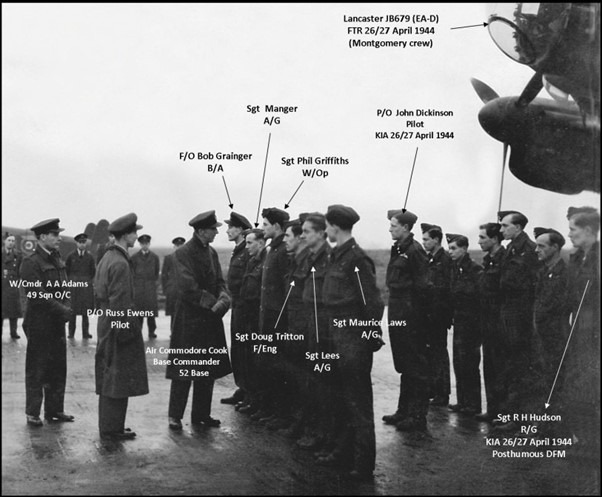 Extracts and photographs courtesy of his daughter, Susan Kitchen and granddaughter, Alison, also  of 49 Squadron Association.