Desmond O'Connell was a founder member of the Guinea-Pig Club. He was interviewed for the IBCC Digital Archive. The team have also scanned his memorabilia, including his collection of photographs of the Guinea-Pig Club.
Born in 1919, Desmond was one of eight children. He joined the RAF Volunteer Reserve and was called up in December 1939. After his training he was posted as an observer to RAF Limavady in Northern Ireland as part of 502 Squadron, Coastal Command.
Tasked to find and attack the Bismark, he took off with the crew of Pilot Officer John Dixon at 3 am on 27 April 1941. Overloaded with extra fuel tanks and bombs, their Whitley Mark V was unable to gain height and it crashed into the mountains that surround the airfield. The fuel tanks had fractured in the crash, and as he crawled out of the rear of the aircraft his clothing was soaked in petrol. Outside the aircraft the grass was burning and Des was "set alight."  He had recently been issued with American leather flying jacket and boots which protected him somewhat, but his face, hands and the back of his legs were badly burned. His crew mate, wireless operator, Stan Dorney extinguished the flames and helped him to run over the brow of the hill before the bombload exploded. Seeing the explosion people at the RAF station recoded the whole crew as killed in action.
The crew then walked several miles over peat cuttings down the hill to the nearest farm house to ask for help. Des remembers "I had a lot to thank the weather for… It was very cold and we were all frozen. There were strips hanging off my hands and I thought they were my gloves, but I knew I hadn't put my gloves on… The shock numbed any feelings."
Transport arrived eventually and Des was sent to Roe Valley Cottage Hospital in Limavady. Once there his parents were called for.  Lying in bed, Des overheard the medical officer tell his mother "You can either have him buried here… or we can send his body home." She "kicked up a stink" and Des was flown to RAF Hospital Halton in England. Sometime later Sir Archibald McIndoe, the RAF burns consultant, arranged for Des to be transferred to Ward three of East Grinstead's Queen Victoria Hospital. At first there were only a dozen beds there.
Des explained: "It was early on in plastic surgery and they were finding out what to do." He became a founder member of the Guinea-Pig Club.
Ward three "was a great leveller… nobody was rank conscious there." There was a piano in the ward for a while and McIndoe used to come and play it.  Des remembered: "The patients there did a lot for themselves psychologically and physically by not giving in… The nurses were very, very, attractive and you wanted to show off how tough you were… and the people in East Grinstead helped a lot because they didn't cringe… If you went to a pub… you never had to buy a drink. After a while it became embarrassing to refuse it." However, Des did not recall ever seeing a beer barrel on the ward. "I can imagine the beer was brought in for one occasion but it is always that that was remembered… I can't believe it."
Des was McIndoe's patient for over two years and underwent 29 operations. When he was eventually discharged from hospital, Des became an airfield controller at RAF Ossington, a Bomber Command OTU in Nottinghamshire. He was later commissioned and posted to the Far East. He was in Cairo when the war ended, and he left the RAF in 1946.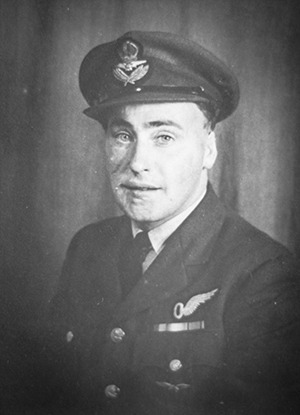 Desmond's Collection can be viewed here
To help us preserve more heritage like this and to support the project please donate here